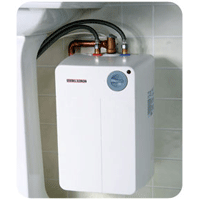 The SHC Mini-tank frees up precious space while providing plenty of hot water for hand washing or kitchen type applications. Why store 30 or more gallons of hot water when 4 gallons or even 2.5 gallons are sufficient for the job?

By putting the hot water right where it is needed, you can reduce pipe runs from a central hot water tank. This reduces the use of water and energy. The smaller tank coupled with good insulation also reduces the stand-by losses in comparison with larger tank type water heaters.
Stiebel Eltron is known for high quality products - the SHC is no exception. The unit offers a six year warranty on the tank, and two years on all the other components of the unit- TanklessKing has the Units in Stock and can ship right away.
FAST INSTALATIONThe unit installs right under or near the sink. Lightweight and compact, the SHC mounts to the wall (bracket included). Once it is filled with water, simply plug it into a 110-120V outlet. With only an 11 amp current draw, no special wiring is required.